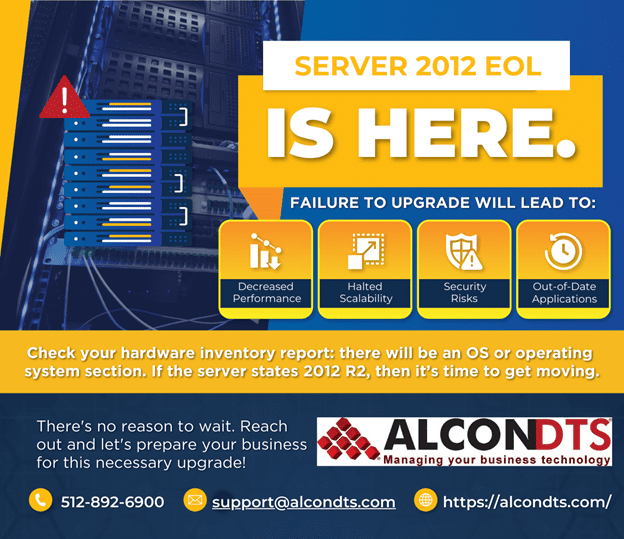 For businesses with on-premises servers that weren't purchased and configured in the last few years, this announcement means change is here.
We're here to help minimize disruptions that will come with Server 2012 riding off into the sunset. If you're in that camp, this article is for you.
We'll walk you through the following:
Microsoft's End of Service Announcement: The Details
First up is Microsoft's announcement:
"Windows Server 2012 and Windows Server 2012 R2 will end on October 10, 2023. After this date, these products will no longer receive security updates, non-security updates, bug fixes, technical support, or online technical content updates."
The End of An Era: What does this mean for you and your business?
Microsoft didn't exactly pull the plug on Windows Server 2012, but it reallocated every person who currently works on the product. After October 10, that means no more: No more security updates. No more patches. No more technical support. When Microsoft ended support for Windows Server 2012, it turned out the lights and locked the door, marking the end of the line for this trusty old workhorse.
This news means that if your server is running anything OLDER than Server 2012, it is already end-of-life and in critical need of updating.
This isn't just nostalgia talking. There are real risks to continuing to use Server 2012 post-expiration:
Vulnerabilities will start piling up faster than dirty dishes in a sink. Each new uncovered exploit or hack just sits there for the taking, a tantalizing treat for cybercriminals looking to attack out-of-date systems. It's only a matter of time before someone takes a big juicy bite out of your vulnerable server.
Stability goes sideways. Like an aging boxer past his prime, your outdated server will start showing signs of sluggishness and glitches. Crashes, lag times, and errors, oh my! Without ongoing updates, system performance issues compound over time.
Migrating data becomes a potential nightmare. Making the leap from Server 2012 could mean uprooting dinosaurs. The relics of the past don't always play nice with updated architecture.
The clock is ticking ever closer to "doomsday." Thankfully, you have options to steer your business away from disaster.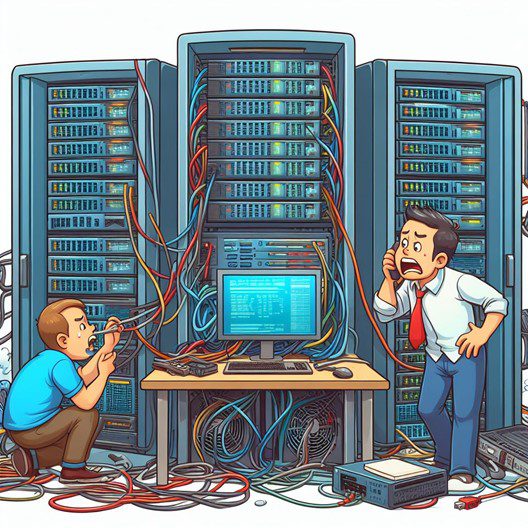 The Countdown is On: What to Do Now That Windows Server 2012 Hit End of Life
What exactly happens now that Microsoft pulled the plug? Once patches stop flowing, future-proofing gets tricky. Wait too long to upgrade after October 2023, and migration becomes a nightmare.
Tick tock. Your upgrade window is closing.
Of course, you could pay extra for Extended Security Updates after October 10th if you qualify. But is throwing money at an outdated server the wisest long-term solution? Probably not.
Don't despair. You've got 3 options for moving your business forward:
Option 1: Direct Upgrade– If your server hardware is still in good working order and less than 5 years old, you can upgrade to Windows Server 2022 directly. Be aware: many 2012-era servers just won't cut it anymore.
Option 2: New Hardware, New OS– Replace aging servers with modern models preloaded with Server 2022. Transfer critical data, apps, settings. The fresh hardware adds speed and storage.
Option 3: To the Cloud! Make the leap to a cloud-based server environment. No more on-premises hardware to maintain. The most disruptive option but also the most transformative.
Each path forward comes with pluses and minuses for your specific situation. We'd love to explore which route is right for your unique needs. Due to the uniqueness of your environment, it is not possible to give reliable estimates here for each option. We take pride in our efforts to minimize costs to our clients while giving them the most robust systems possible. That said, the cheapest options could be as low as a few hundred dollars, but likely between $1000-10,000, and in some cases more.
Do not let Windows Server 2012 woes catch you off guard. Let's start planning your upgrade now!
Reach out now to secure your business systems and step into a brighter future. The longer you wait, the more turbulent the transition. Fortify your infrastructure against disaster by acting now.